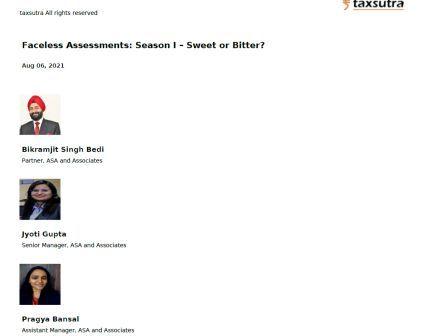 Published by Taxsutra, this article was jointly authored by Bikramjit Singh Bedi, Partner; Jyoti Gupta, Senior Manager and Pragya Bansal, Assistant Manager, Taxation the authors discuss about the Faceless Assessment and its benefits as well as challenges.
The Faceless Assessments Scheme 2019, was already in the works long before the pandemic set foot. This scheme seeks to eliminate the existing human interface between a taxpayer and the income tax department. With the first season of the Faceless Assessments regime nearing closure, there are a number of controversies headed its way. In some ways the assessments went smoothly but there were concerns raised on the non-service of proper Show Cause Notice (SCN) and Draft Assessment Order (DAO).
This article delves into the cardinal rule of tax proceedings: the "Principle of Natural Justice" which appears to have been overlooked in some cases. It also highlights the major issues encountered during the first phase of faceless assessments and the views taken by various courts. Outlined are some possible improvements that could be made to the Faceless Assessments Scheme and areas that require more attention.
Click on the Download link below to access complete article.
Download Pdf